This month has many upcoming event to help you celebrate Fair Housing month!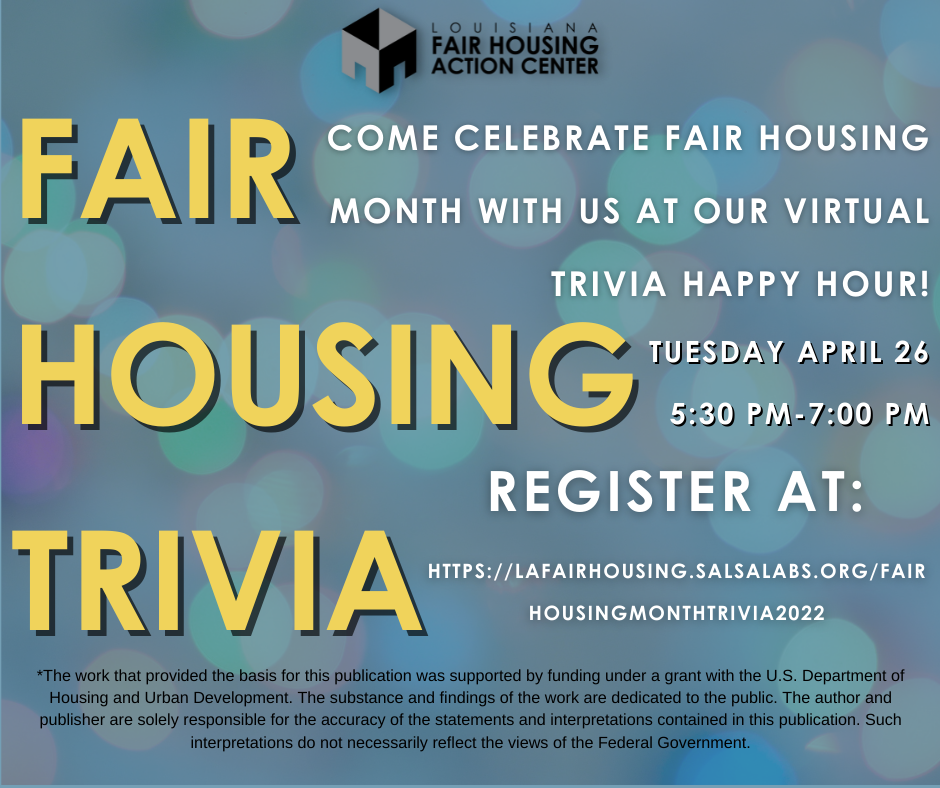 Come test your Fair Housing knowledge at our Virtual Fair Housing Trivia Happy Hour Tuesday, April 26th from 5:30pm – 7:00pm. Click here to register for the event and RSVP on Facebook here.
---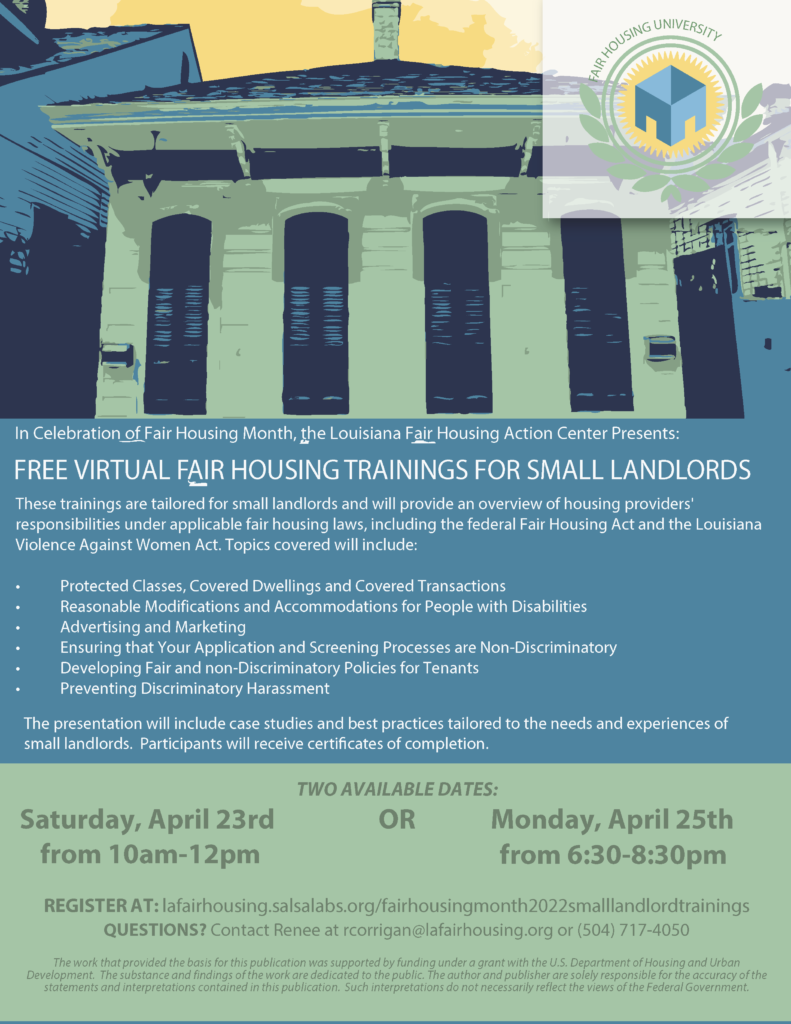 In honor of Fair Housing Month, LaFHAC is offering two free virtual fair housing trainings for small landlords this month.
These trainings are tailored for small landlords and will provide an overview of housing providers' responsibilities under applicable fair housing laws, including the federal Fair Housing Act and the Louisiana Violence Against Women Act. Topics covered will include:
Protected Classes, Covered Dwellings and Covered Transactions
Reasonable Modifications and Accommodations for People with Disabilities
Advertising and Marketing
Ensuring that Your Application and Screening Processes are Non-Discriminatory
Developing Fair and non-Discriminatory Policies for Tenants
Preventing Discriminatory Harassment
The presentation will include case studies and best practices tailored to the needs and experiences of small landlords. Participants will receive certificates of completion.
This training will be offered on two dates: Saturday, April 23rd from 10:00am – 12:00pm and Monday, April 25th from 6:30pm – 8:30pm.
Click here to register and RSVP on Facebook here.
---

LaFHAC will be celebrating Fair Housing Month by giving out free copies of our original children's book, The Fair Housing Five and the Haunted House, at NORD's Movies in the Park this month. Movies in the Park is a seasonal program that features family-friendly, free outdoor movie screenings at NORD playgrounds for residents across the City. Residents are encouraged to arrive early to visit with family and friends and participate in fun activities before the movie. Movies in the Park is free and open to the public. Movie goers are welcome to bring lawn chairs, blankets and picnics. Movies begin at sunset, between 6:15 p.m. and 6:45 p.m. Upcoming date, movies and locations are listed below:
4/22/22 The 5th Wave (PG13)
Lyons Playground, 624 Louisiana Ave.
4/29/22 Clifford the Big Red Dog
Cut Off Playground, 6600 Belgrade St.
---

Learn about your housing rights at out FREE virtual training for students! Tuesday, April 19th from 6:00pm – 7:00pm.
The training will cover:
Red flags to help you spot illegal housing discrimination
How the law applies to students and dorms
Discrimination against the LGBTQ+ community
Sexual harassment and domestic violence
Requesting an accommodation for a disability
Criminal background screening policies
And more
Click here to register.