Jobs and Internships
Jobs
Executive Director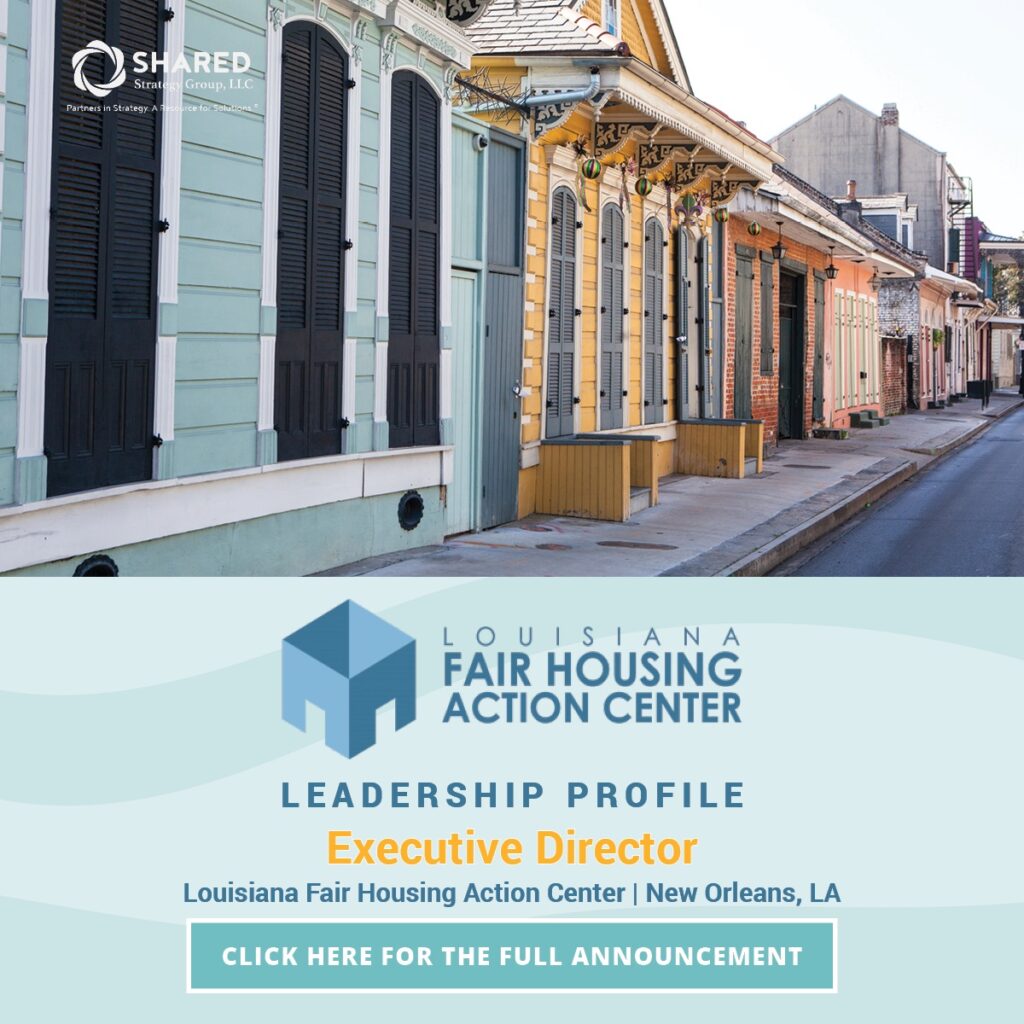 The Louisiana Fair Housing Action Center (LaFHAC) seeks an exceptional leader with significant management experience, as well as civil rights and legal expertise. The Executive Director is LaFHAC's chief executive officer and reports to the Board of Directors. The Executive Director leads LaFHAC's efforts to achieve its mission, goals, and objectives. The Executive Director manages a budget of approximately $2.1 million and directs a smart and talented senior leadership team of six: the Director of Finance, Development Director, Director of Policy & Communications, Legal Director, Director of Housing Counseling, and the Director of Education & Outreach. The Executive Director is ultimately responsible for supporting the entirety of LaFHAC's staff – a team of 21.
The successful candidate is a politically savvy authority on civil rights and social justice issues, with knowledge of the relevant legal landscape, and/or experience as a practicing civil rights lawyer. The Executive Director will lead LaFHAC's enforcement of fair housing and civil rights laws, the development of educational and outreach initiatives, housing and mobility counseling programs, policy advocacy, and fund development, in addition to ensure that LaFHAC's financial position is sound and sustainable.
The ideal candidate is one who will support the programmatic work, in additional to continue to assess and further strengthen LaFHAC's operational, fiscal, and administrative position. The full job description is available here.
How to Apply:
Applicants should submit a resume and cover letter stating qualifications and chronological employment history. For consideration or to submit a referral, information must be submitted to:
lafairhousing [at] sharedstrategygroup.com. Subject Line: "Executive Director".
Policy Analyst
The Louisiana Fair Housing Action Center (LaFHAC) seeks an experienced Policy Analyst to support the efforts of LaFHAC's New Orleans-based team. The Policy Analyst will support LaFHAC's Policy and Communications team in their legislative and regulatory work at the local, state and federal levels on a variety of housing related and civil
rights issues.
The Policy Analyst's duties and responsibilities will include:

Government Relations:
Support productive relationships with relevant officials and their
staff.
Establish and advance organizational policy agenda at federal,
state and local levels.
Maintain legislative and regulatory allies to advance policy work.
Perform other duties as assigned.
Research:
Conduct program related research to produce sound and reliable
informational resources that can support and advance policy planks.
Provide project related data collection and analysis.
Communications:
Produce timely, policy oriented internal and external communications,
including, but not limited to press releases, web updates, talking points
memos, policy or issue briefs, letters to elected and appointed officials,
regulatory comments and other program related communications as
needed.
Develop and draft program related action alerts, listserv messages, and
other materials to advance policy goals.
Qualifications:
Our ideal candidate will possess the following:
Bachelor's degree and/or relevant professional experience.
Demonstrated commitment to the Louisiana Fair Housing Action Center's
mission and goals.
Excellent writing skills and ability to produce products quickly.
Experience in government relations at the local or state level in Louisiana.
Compensation:

The salary range for this position is $50,000-$55,000. Placement on the pay scale is based on the following factors: years of relevant work experience; relevant undergraduate degree (or higher) or certification received; bilingual language skills; and connections to the community.

LaFHAC's benefits include:

100% employer-paid medical insurance with available dental and vision coverage
Flex spending account
401(k) with employer-matched contributions
Paid vacation
Paid parental leave
How to Apply:
The position is open until filled. Please email a resume, writing sample (no more than 5 pages), and cover letter explaining your interest in the position to resumes [at] lafairhousing.org with the subject line "Policy Analyst." All correspondence should be address to Monique Blossom, Director of Policy and Communications.
Internships & Law Clerkships
Law Clerks
The Louisiana Fair Housing Action Center (LaFHAC) seeks dedicated, motivated, and talented law students for semester-long and summer internships.​
Law clerks assist LaFHAC attorneys with the investigation and litigation of fair housing complaints. Work may involve all aspects of litigation, including client intake, performing legal research, conducting factual investigation, drafting memoranda and motions, analyzing discovery materials, attending court proceedings, and preparing briefs. Law clerks may also assist with community outreach events designed to educate the public about their fair housing rights.
How to Apply: Please submit a resume, cover letter, and writing sample via email to resumes [at] lafairhousing.org. Applications will be considered on a rolling basis.
Education, Outreach and Policy Internships
LaFHAC's Education & Outreach Department provides Fair Housing education to a wide variety of stakeholders including renters, first time homebuyers, landlords, property managers, real estate agents, developers and government officials. We educate the wider public through social media, print and radio advertisements, and targeted outreach. We also conduct workshops for youth and publish an original children's book The Fair Housing Five. LaFHAC's Policy Department promotes equitable housing laws and regulations on the local, state, and national levels. Recent victories include the expansion of housing protections for survivors of domestic violence through the passage of the Louisiana Violence Against Women Act in August 2015.
Education, Outreach and Policy Research intern applications are welcomed throughout the year with slots available in the Spring and Fall semesters, as well as over the summer. At this time, internships are unpaid.
Internship Activities
The focus of each internship will be designed in consultation with LAFHAC staff, taking into account department needs and intern skills and areas of interest. Tasks might include:
Producing and posting relevant content (including text, graphics, and video) to Facebook and other social media
Designing advertisements (print, radio, social media), flyers and brochures
Helping plan LaFHAC's annual Fit for a King Fair Housing Summit, as well as workshops and other events
Tabling at community events and other direct outreach
Assisting with Fair Housing Five youth workshops
Bringing policy related research projects from inception to completion. Projects combine social science skills with project administration (sample projects include research and data collection on the Louisiana state legislature; using U.S. census data to track demographic changes; and mapping opportunity through local land use laws).
Interns should be interested in civil rights, law and policy, history, community education and/or design and marketing. Preferred candidates are tech-savvy, highly organized, and have a basic understanding of federal, state and local government. This is a great way for any social science major to apply classroom skills to real-world challenges. Ability to work occasional evening and weekend hours preferred.
How to Apply: Please submit a resume, cover letter, and writing sample to Maxwell Ciardullo at mciardullo [at] lafairhousing.org and Renee Corrigan at rcorrigan [at] lafairhousing.org.. Applications will be considered as follows:
Spring 2024: Applications due October 30th, 2023; candidates notified November 15th, 2023
Summer 2024: Applications due March 31, 2024; candidates notified April 15th, 2024
Fall 2024: Applications due July 15th, 2024; candidates notified August 1st, 2024