Recap of Day 1 of Fit for a King 2021: Discrimination is Deadly
On Thursday, January 14th, LaFHAC live-streamed day one of its annual fair housing summit, Fit for a King. This year's event, titled "Discrimination is Deadly," took place over three weeks in January and was LaFHAC's first-ever virtual summit.
The day began with a panel entitled "From Red Lines to the Frontlines: COVID Collides with Environmental Racism in Louisiana," where participants were able to hear from Sharon Lavigne of RISE St. James and Lydwina Hurst of the Residents of Gordon Plaza. These environmental justice advocates offered compelling insight into Louisiana's environmental catastrophes and their disproportionate effects on Black communities. Sharon Lavigne asked that those interested is working towards justice for St. James and preventing future industrial sites in a parish already facing the devastating health consequences of a dense concentration of heavy industry reach out to RISE St James on Facebook or get more information about stopping Formosa Plastics from opening a new plant at www.stopformosa.org. Lydwina Hurst encouraged attendees to support a fully funded relocation for Gordon Plaza residents living on a cancer-causing toxic waste site. She directed supporters to reach out to Residents of Gordon Plaza or the New Orleans Peoples Assembly for more information. New Orleans residents are also encouraged to contact Mayor LaToya Cantrell to voice support for a fully funded relocation.
The panel was followed by a beautiful musical performance by Michaela Harrison. Michaela Harrison is a Washington DC native who lived and worked in New Orleans for over 17 years. The vocalist uses her work to uplift and educate her audiences. To learn more, please visit www.michaelaharrison.org/.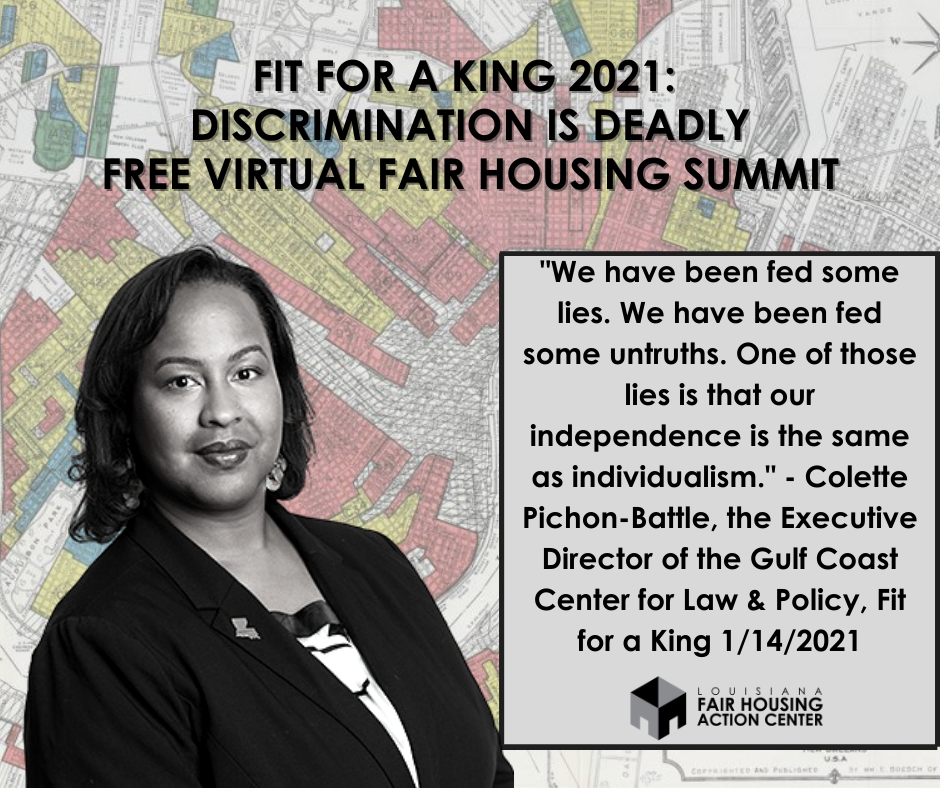 Following the performance, LaFHAC presented its "Award for Courage" to Tester T. While Tester T will remain anonymous because they continue to conduct mystery shopper investigations for LaFHAC, they have helped immensely in working to uncover housing discrimination in our community and our staff and board extend gratitude. Anyone interested in becoming a mystery shopper or "tester" with LaFHAC can visit lafairhousing.org/become-a-tester.
Day one of the event closed out with a powerful and moving keynote address by environmental justice advocate Colette Pichon-Battle, Executive Director of the Gulf Coast Center for Law & Policy. Colette did not shy away from stressing the urgent need to address the ongoing environmental crisis we face and pushed for people everywhere, especially across Louisiana, to have the courage to act now while we still have the chance. She gracefully wrapped up the day with a call to collective action and a message of hope for the future despite years of environmental destruction. To follow more of Colette Pichon-Battle's work or to get involved, please check out the Gulf Coast Center for Law and Policy's website or follow them on Facebook.
LaFHAC thanks everyone who participated in making day 1 of Fit for a King 2021: Discrimination is Deadly a success. Check back next week for a wrap up of day 2 and click over to fitforaking.org/recordings to watch day one in its entirety in English or Spanish.