Looking for Educators Who Care About Housing Justice!
LaFHAC has two exciting opportunities for educators in Louisiana to bring fair housing to their classrooms this year. We are currently distributing our Fair Housing Five youth curriculum for grades 1-4, along with a limited number of free class sets of LaFHAC's original children's book The Fair Housing Five and the Haunted House, to educators in Louisiana. You can read more about the book and curriculum here. We're also working with the Rise-Home Stories Project on a virtual classroom tour of another awesome children's book about housing justice, Alejandria Fights Back!/La Lucha De Alejandria!. Alejandria Fights Back! is a bilingual book, in English and Spanish, about a young girl who organizes with her neighbors to speak out against evictions in her community. Teachers can get copies of the book, along with an educators' guide, and then participate in the virtual tour to give their students a chance to chat with housing justice organizers from across the country.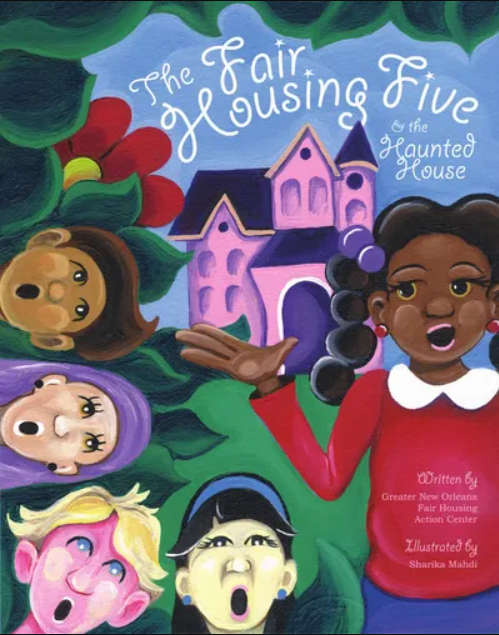 Samaria and her friends like everything about their clubhouse except the haunted house across the street. But when Samaria and her mother need to find a place to live, they realize they are dealing with a much bigger problem than ghosts or monsters. Join the Fair Housing Five as they work together to take creative action against housing discrimination in their community. 
For nine-year-old Alejandria, home isn't just the apartment she shares with Mami and her abuela, Tita, but rather the whole neighborhood. But lately the city has been changing, and rent prices are going up. Many people in el barrio are leaving because they can no longer afford their homes, and "For Sale" signs are popping up everywhere. Then the worst thing happens: Mami receives a letter saying they'll have to move out too.
Why Should Kids Learn About Fair Housing?
At the Louisiana Fair Housing Action Center, we believe strongly that kids can make a difference.  So do the teachers, parents, and students that generously offered their advice throughout the development of the Fair Housing Five book and curricula.  We've seen kids brainstorm innovative ways to inform their communities about fair housing – everything from writing skits about housing discrimination and performing them for their peers, to having conversations around the dinner table with their parents or guardians.
in the end, we think teaching kids about fair housing is a great way to reach the adults in their lives who may also be affected by housing discrimination.  We hope that parents, guardians and teachers will read The Fair Housing Five with their kids and have meaningful conversations about opportunity, diversity, and justice.
For more information about either project, please contact Renee Corrigan, LaFHAC's Education & Outreach Director, at rcorrigan@lafairhousing.org or (504) 717-4050.