LaFHAC's Executive Director Cashauna Hill's article "Evictions and the COVID-19 Pandemic"
LaFHAC's Executive Director, Cashauna Hill, wrote an article for the January/February 2021 issue of Probate & Property, the magazine published by the American Bar Association's Real Property, Trust and Estates Law section.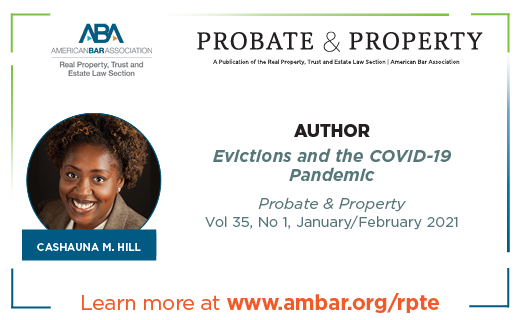 An excerpt from "Evictions and the COVID-19 Pandemic" by Cashauna Hill:
"Since mid-March 2020 it seems every day that we have been faced with more crises than we ever thought possible. Those of us who work in the housing justice space were immediately concerned about what the pandemic, and the necessary stay-at-home orders, would mean for the nearly 45 million renting families living in the United States. This article discusses the lack of clarity around evictions because of the state-by-state approach of landlord-tenant law across the United States, with a particular emphasis on the crisis in Louisiana, and explores potential solutions and ways that lawyers can become involved in keeping renters housed."
To read the full article, click here.