An article published April 20th on Nola.com shed light on the large disparities in infection rates between predominantly black and predominantly white neighborhoods in the Greater New Orleans Area. These findings were based on recent reports released by the Louisiana Department of Health, which organized case rates based on U.S. census tract. This categorization allows for more specific neighborhood tracking of cases, compared to more generalized methods used across the country. As a result, comparisons can easily be drawn between different communities in the area.
Previous articles have mentioned the apparent stark disparities in cases between African American and white residents of Louisiana. This new data, however, shows the extent of the disparities down to neighborhoods that border each other, but comprise very different populations. Currently, Black Louisianans account for 56.25% of deaths in the state, 1.6 times higher than white residents. The disparities are greater when broken down by the census tracts.
According to the Nola.com article, tracts for Hollygrove and Dixon showed between 1% and 2% of their predominantly black populations test positive for COVID-19. However, in neighboring Lakeview, a predominantly white neighborhoods, case rates were roughly half that. This pattern repeats across the city with glaringly higher rates in Gentilly and New Orleans East compared to Uptown. Jefferson Parish also mirrored these numbers, where white east bank suburbs reported significantly lower rates than more diverse areas of Kenner or the West Bank.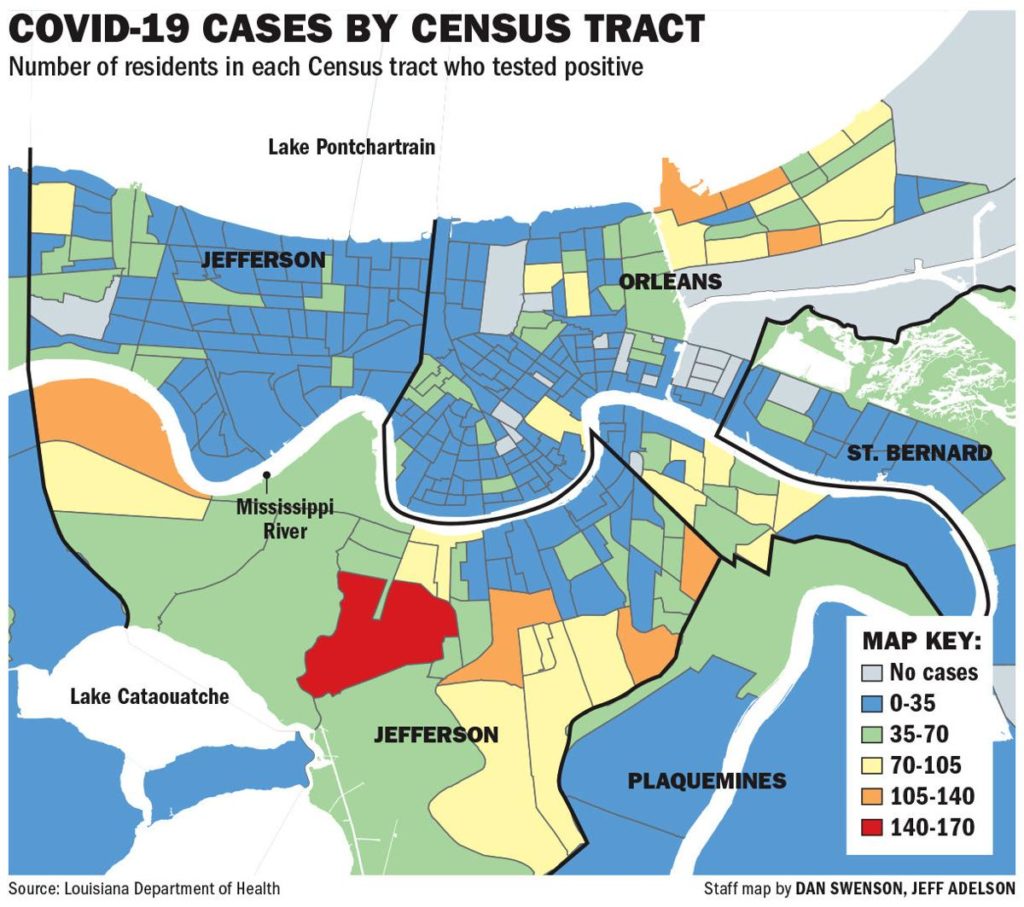 Courtesy of Nola.com
It is important to note the limitations of the newly-released data. Approximately 1/4 of cases across the state were excluded from this data because patients' addresses could not be matched to a location, and census tracts with fewer than 1,000 people were not used to protect privacy and anonymity.
New Orleans City Councilman Jason Williams responded to these findings by saying this data simply shows the reality of the city for the past few decades: when disaster strikes, there is a disproportionate impact on the black populations and communities of the city.
Thomas LaVeist, dean of Tulane University's School of Public Health and Tropical Medicine, identified more factors that contribute to increased numbers in predominantly black New Orleans neighborhoods. LaVeist said people are more likely to associate with members of their own community, and may live in multi-generational homes, leading to large spread within singular communities.
This data also raises questions about black communities' access to testing and health care services when symptoms arise and treatment is needed. According to Uché Blackstock, founder and CEO of Advancing Health Equity, many black communities are already at heightened risk from chronic medical conditions such as hypertension and diabetes, risk factors for COVID-19. This, combined with black and brown people often relying on public transit and jobs exposing them to large numbers of people, heightens the risk.
Dr. Valda Crowler, MD, Chair of the Health Committee for Black Women for Positive Change, also warns that black communities often exist in "medical deserts" lacking an adequate acute care hospital within 60 minutes. Dr. Crowler has called on leaders to address these potentially deadly "medical deserts" during the COVID-19 pandemic to increase access and improve care in affected communities.
Even as daily case numbers continue to decrease in the New Orleans area, measures must be taken to protect communities and enhance medical support. For more information on our COVID-19 resources, click here.