Thursday, January 28th was the third and final day of LaFHAC's annual fair housing summit, Fit for a King. This year's event, Discrimination is Deadly, was the first-ever virtual summit and wrapped up with not one, but two keynote speakers.
The session began with a keynote address from Carroll Fife, founding member of Moms4Housing and Councilmember from Oakland's 3rd district. Ms. Fife called attention to the necessity of housing for chronically homeless families and the dire need for resources for the lowest income individuals. The councilmember unapologetically explained the consequences of state disinvestment in communities. For more information on Carro
ll Fife's work please visit https://www.carrollfife.org/ or the Moms4Housing website.
After the first keynote address, LaFHAC presented the Mondale-Brooke Award for Fair Housing Leadership and Civic Participation to Representative Mandie Landry and Representative Ted James. We thank these representatives for their commitment to housing justice.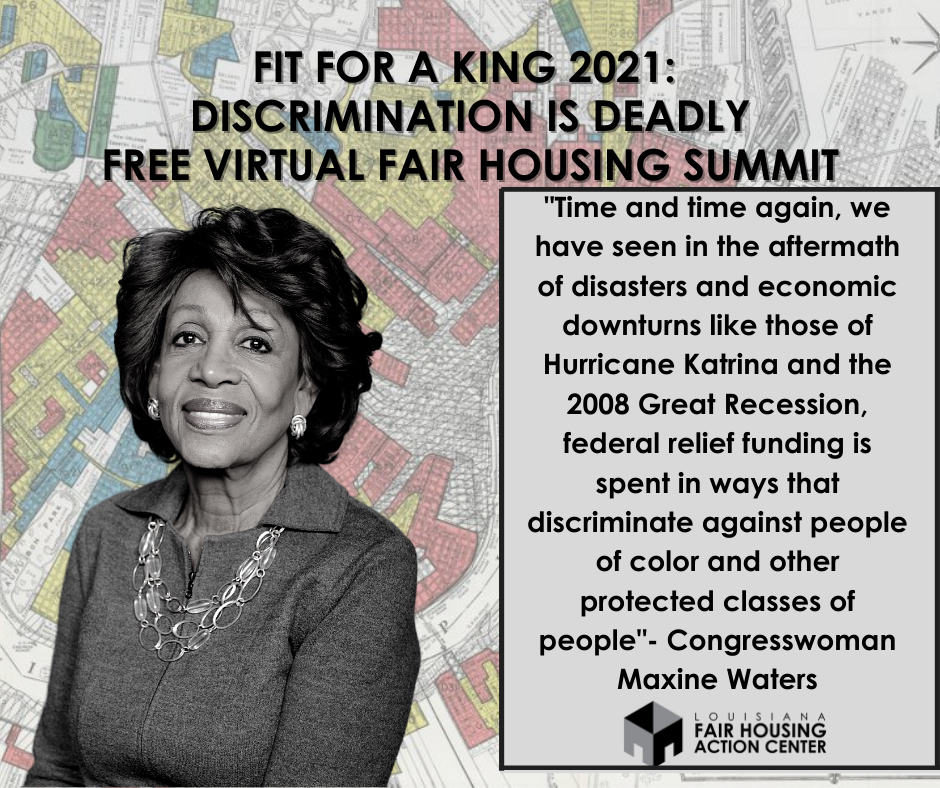 The second keynote of the day came from Congresswoman Maxine Waters. Congresswoman Waters has been a champion for social justice and civil rights throughout her long career in public service. She spoke about the need for robust economic relief for families amidst the COVID-19 pandemic and the ways in which the consequences of these disasters often take the largest toll on Black communities. For more information about Congresswoman Waters and her work, please check out https://waters.house.gov/about-maxine/biography or follow her on Twitter.
Next, participants were treated to a powerful performance from Dance for Social Change called Solastalgia that focused on changing New Orleans neighborhoods and how that affects perceptions of home. Dance for Social Change is a youth arts program at Dancing Grounds in New Orleans, LA. For more information visit their website at https://www.dancingrounds.org/dance-for-social-change.
Wrapping up the final day was a panel entitled "Do we Need Evictions? Transformative Housing Justice Organizing in a Pandemic." Participants got to hear from Frank Southall of Jane Place Neighborhood Sustainability Initiative, Tara Raghuveer of KC Tenants, and Sarah Carthen Watson of the Lawyers' Committee for Civil Rights Under Law. These activists emphasized the necessity of halting evictions, especially during a global pandemic when staying home is the best way to stay safe.
Frank Southall explained the ways in which eviction and housing instability disproportionately affect families of color. He also emphasized the importance of ensuring tenants have access to legal representation in eviction court. For more information on Mr. Southall's work, please visit Jane Place Neighborhood Sustainability Initiative's website and follow the New Orleans Renters Rights Assembly on Facebook.
Tara Raghuveer talked about the importance of direct action in stopping evictions. She explained the violence that each eviction perpetuates and the value of collectivism in fighting for housing justice for the working class and in communities of color. To follow Ms. Raghuveer's work check out her Twitter. For more information about KC Tenants, follow their Facebook page.
Sarah Carthen Watson spoke about why now is the time to reevaluate the way we think about evictions. She stated that we have reached a point at which to ask ourselves, "Do we need evictions at all?" To get more information about her work please visit the Lawyers' Committee for Civil Rights Under Law's website and follow her on Twitter.
LaFHAC thanks everyone who participated in making day three of Fit for a King 2021: Discrimination is Deadly a success. Head over to https://fitforaking.org/recordings to watch day three in its entirety. We can't wait to see you all again next year.