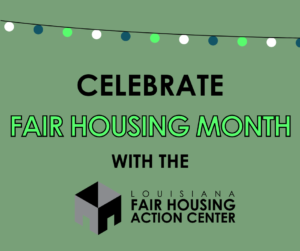 April is Fair Housing Month! Here at LaFHAC, we fight discrimination and segregation and work to makes sure families have access to safe and affordable housing in neighborhoods of opportunity. LaFHAC can assist with foreclosure prevention, provide legal services for those who have experienced housing discrimination, provide eviction defense, and educate community members about their housing rights. Please reach out to us for help or more information at 504-596-2100.
This month we would like to remind you that our work is made possible by the Federal Fair Housing Act. The Fair Housing Act was passed in April 1968 and amended in 1988. It was meant to ensure equality in housing practice and remedy the harms caused by long standing racial injustice in the housing system. The Fair Housing Act prohibits discrimination in the sale and rental of homes based on membership in protected classes. These protected classes include: race, color, religion, sex, national origin, disability, and family status.
To celebrate Fair Housing Month, please join us for these exciting virtual events hosted by LaFHAC:
Fair Housing Trivia: April 12th 5:30PM to 6:30PM
Join us for a virtual trivia happy hour about the Fair Housing Act and housing history. Show off your knowledge and win great prizes. Click HERE to register.
Conversation and Virtual Tour of the Evicted Exhibit: April 14th 6:00PM to 7:00PM
Log on for a virtual look at the Evicted exhibit inspired by Matthew Desmond's book. The evening will include an exhibit walk through and a conversation with Cashauna Hill, LaFHAC's Executive Director, and Arielle Butler, a local housing advocate. Click HERE to register.
The Fight to Stay Home: Tenant Organizing in a Pandemic Panel: April 27th 6:00PM to 7:30PM
Drop in with LaFHAC for a conversation with tenant organizers from across the country about the current fight against evictions and for a more just housing system. Click HERE to register.
You can also check out the following events hosted by our community partners:
Homeownership Panel with the Urban League Young Professionals of Louisiana: April 20th 6:00PM to 8:00PM
Listen in as LaFHAC's Giazzlyn Duncan participates in a panel on homeownership. Click HERE to register.
L9WHA Foreclosure Avoidance Workshop: April 13th 5:30PM
The Lower 9th Ward Homeownership Association welcomes Giazzlyn Duncan, LaFHAC's Homeownership Protection Director to discuss ways to avoid foreclosure and resolve delinquent mortgages. Click HERE to register.
Virtual Disaster Information Sessions: April 14th through April 24th
A series of information sessions that will provide vital information on programs, resources, and services available to an individual or family impacted by the disasters in Louisiana, including Hurricanes Laura, Delta, and Zeta. Click HERE to register for sessions.